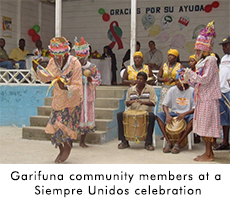 Their story begins with escape from slavery. In the late 1600s or early 1700s, a European slave ship carrying Africans shipwrecked off the shore of St. Vincent's, a Caribbean island. They settled with the Carib Indians and lived as free people. While they initially resisted British control, they were ultimately exiled by the colonizers and taken to the island of Roatán.
Today, the Garifuna (descendants of the African-Carib Indians) number 150,000 in Honduras and primarily live along the Atlantic coast and on Roatán. The have retained many African traditions as seen in their song and dance.
"Marta," is a 52 year-old woman who travels from her home on Roatán, passing many other clinics, for 6 hours to reach our San Pedro Sula facility.
After Marta became sick with an AIDS-related illness, her husband deserted her. When she was discharged from the hospital she went to stay with her brother and his wife who quarantined her in a room of their house. While this happened over 10 years ago, she still feels the sting of rejection. "We have to change minds," she says. "We are equal."
The HIV rate among the Honduran Garifuna is 4.5%; the country's overall rate is 0.45%. Their long history of discrimination, poverty, and low access to health care drive the high HIV prevalence. Our staff treats several Garifuna community members in our clinics and travels to Roatán to provide rescue HIV medications.