The Garífuna are descendants of Africans who were shipwrecked, escaped slavery and settled with indigenous groups in the Caribbean in the 17th century. They remain a disenfranchised and marginalized ethnic minority group living primarily along the north coast and islands. Their HIV prevalence rate is at least eight times higher than the national one – over 4%.
Siempre Unidos provides HIV education, testing and treatment at health fairs targeting the Garifuna community in the country's interior and along the coast. The staff travel regularly by ferry to the island of Roatán, home to a large Garífuna community, to provide these services. At the end of July, they spent 3 days treating patients and facilitating support groups. They held a health fair attended by 37 people where 23 were tested and one young person was found HIV-positive.
Below are photos taken during that trip of our Honduras executive director, Pascual Torres, with community members and the site we use for the health fair and patient care.
Siempre Unidos prioritizes the most vulnerable people. With your support, we build relationships and trust, ensure continuous and high-quality care and advocate for human rights. In this compassionate way, we are helping to stop the spread of new infections and bring an end to AIDS.
Denise
Amy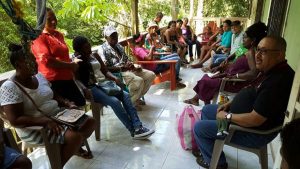 Sources:
Kalichman, H. Critical Population Spotlight: HIV and the Garífuna of Honduras – Comment on Gandhi et al. "Migration, Multiple Sexual Partnerships, and Sexual Concurrency in the Garífuna Population of Honduras." AIDS Behavior (2015) 19 :1571-3.
FY 2016 Regional Operational Plan, Central America Region, Strategic Direction Summary 3 June 2016, President's Emergency Plan for AIDS Relief (PEPFAR)