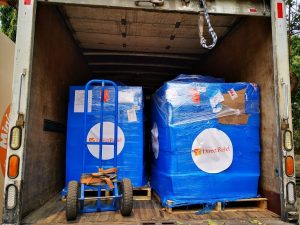 The emails fly back and forth. "How many bottles of medication for blood pressure control? Diabetes? Are you out of sutures? What about antibiotics?" Denise and the Siempre Unidos physicians are making orders for the next maritime shipment from Direct Relief, a nonprofit organization donating medications and medical supplies.
Since 2008, Direct Relief has sent Siempre Unidos 25 shipments of medications and medical supplies valued at $21.5 million (wholesale acquisition cost). The goods arrive quarterly at the port city of Puerto Cortes stacked on pallets as seen below. Direct Relief pays for the shipping as well.
Pascual Torres, the Honduras Executive Director, says that our patients bypass other healthcare providers to reach our clinics because they know we are well-stocked, unlike many public hospitals.
"It is a joy to be able to help you fulfill your mission," says Erick Molina, Program Operations Manager at Direct Relief. We feel the same way and wish to thank Direct Relief for its impact on our patients.