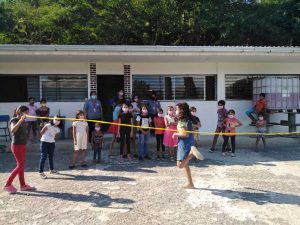 Held in October, the International Day of the Girl focuses attention on the challenges girls face and promotes their empowerment by identifying and amplifying the voices of adolescent girls globally.
Siempre Unidos joined with a women's organization and local school to host a party for the daughters of our patients and community members. The girls took photos posing behind a large decorated frame, ate cake, and played games like jump rope, as seen below.
Our patients and their families face several challenges including HIV-related stigma, poverty, and lack of sufficient work opportunities. Girls and women, however, bear the additional burdens of gender-based violence and living in a country with notoriously high rates of femicide.
Recognizing the lack of advocacy efforts for girls and women, Siempre Unidos helps fill the gap by supporting women's groups, educating girls about self-esteem and health, and providing scholarships.