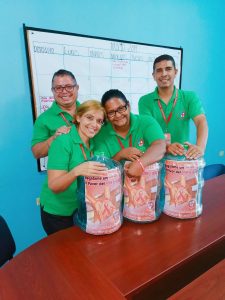 With temperatures above 90 degrees and humidity levels almost as high, the Siempre Unidos staff hit the roads, plazas, parks and marketplaces of the cities of San Pedro Sula, Siguatepeque and their environs to ask for donations. In May and June, they carried large plastic bottles as seen here to ask community members to "regalame un Lempira," or, gift me a lempira [local currency equivalent to 4 cents US].
The staff raised approximately the same amount as Honduras' gross national income per person, $2,330. Every single donation is greatly valued and will be used to help cover the cost of the clinics' electricity and meals prepared for patients and their families.
Thank you to our Honduran donors and to our dedicated Honduran staff for ensuring high quality care delivered with compassion to people living with HIV.