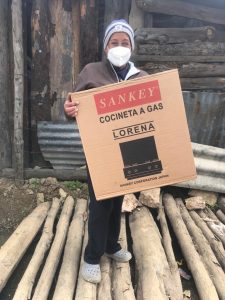 "So, so happy," writes Pascual Torres, Siempre Unidos Honduras Executive Director, about Zoila whose joy is evident through the mask. She has just received a cookstove, mattress, and a month's supply of food.
Immediately after November's hurricanes Eta and Iota devastated Honduras, we put out a call to raise $120,000. Seventy donors responded heroically including the Jeff and Marieke Rothschild Foundation, Direct Relief, Galina and Jon Borschow, and board members. We met our goal!
And the work continues. The day after Christmas, Pascual sent photos via WhatsApp of more deliveries bringing more relief.
Thank you for your generous response to help our patients regain their livelihoods and homes.